There's no surprise or denying the beauty of Antelope Canyon. What did surprise me however, was how obviously it was that making money is the name of the game when it comes to Antelope Canyon. It's another amazingly beautiful location that has become "insta-famous" and thus, fallen victim to the craze of social media – this place is more crowded and touristy than Disneyland! The majority of visitors are from oversees and I was amazed to hear some of the Native American guides talking with some tourists in Chinese telling them to move along and out of the canyon – just goes to show how many tourists come through here.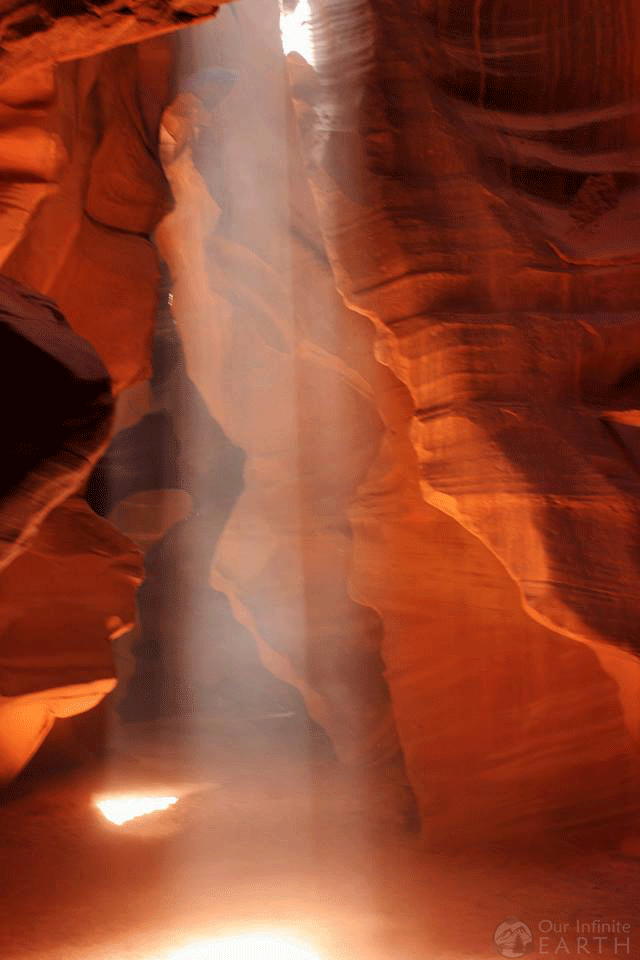 The "walk" through the canyon is a constant stream of people being herded in and out and feels more like cattle going into a chute than anything else. Your tour guide will show you the best spots to take photos from and will even show put your camera in the same location to recreate some of the million dollar award winning photos that have come out of these canyons.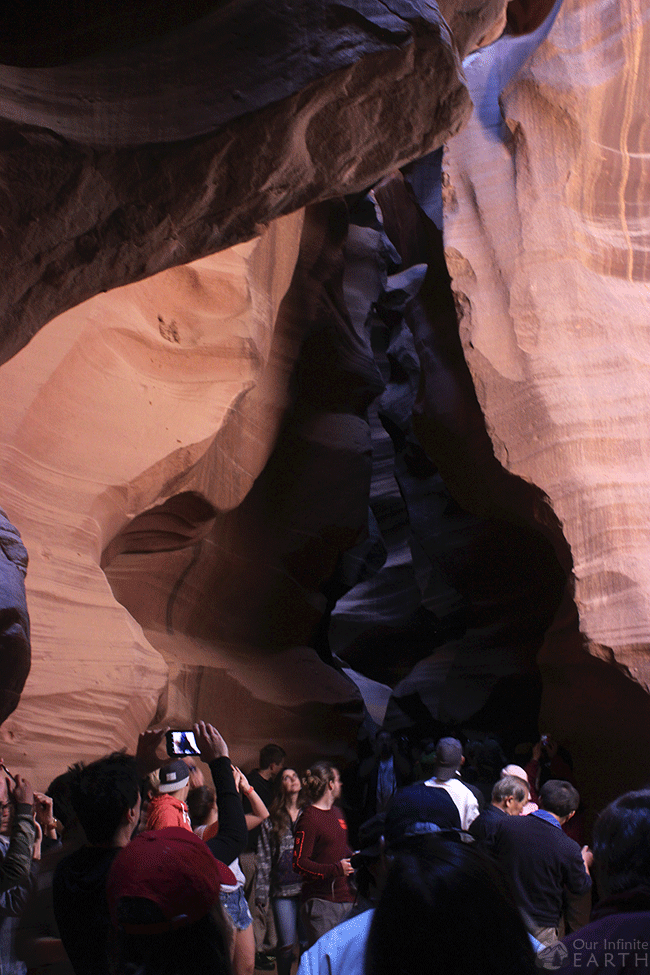 Where Is Antelope Canyon Located?
Right near the border of Arizona and Utah, just outside of Page. Most tour companies are headquartered in Page, which is where you'll meet them. Some other nearby attractions are: Horseshoe Bend, The Wave, and for adventurous hikers and backpackers: Paria Canyon & Buckskin Gulch. Bryce Canyon and Zion are just an hour or so away too.
Upper Vs. Lower Antelope Canyon
Both canyons are pretty impressive and beautiful with lots of unique rock formations. They geological formations are pretty similar except for one thing: The Sun Beams! The Upper Canyon is the more famous of the two and also gets more of the famous sunlight beams coming through the canyon ceiling.
Lower Antelope Canyon
Longer – The canyon itself covers more distance than the upper canyon, which means more to see!
Less Crowded – Not as popular as it's brother, which means the lower canyon has less friends and less visitors.
Cheaper – Since it's not as popular, it doesn't come with as high of a price tag.
Stairs/ Ladders – The lower canyon goes down into the ground through a series of stairs/ladders to get to the entrance. This can be a deterrent for some people, which also adds to the decreased crowd factor.
Upper Antelope Canyon
Sun Beams! – Pretty much the biggest reason to visit the upper canyon over the lower. It's very rare to get these world-famous sun beams in the lower canyon.
Above Ground – The upper canyon appears at the end of a flat dirt "road" where you can walk straight in, no stairs etc. needed. The lower canyon however is essentially below ground as you have to climb down to get to it.
>>> Upper Antelope Canyon Tours
>>> Lower Antelope Canyon Tours
When Is The Best Time To Visit Antelope Canyon?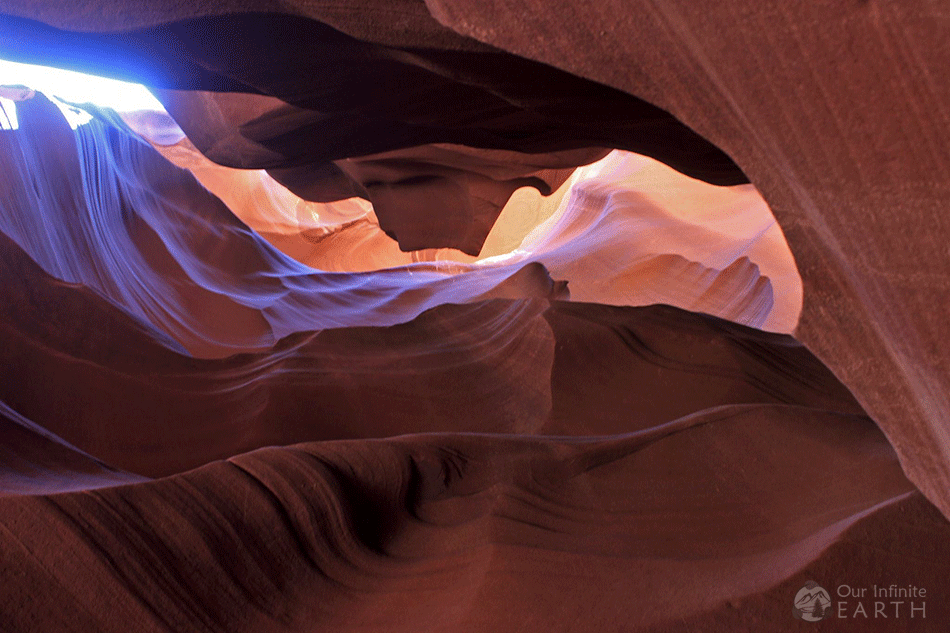 Short Answer: June-Aug between 11am and 1:30pm
Long Answer: Antelope Canyon is open and beautiful year round, so it really depends on what you want to see – and which canyon you want to visit (upper or lower).
If you are looking for the absolute optimal time so that you will see the beautiful sun light beams that the canyon has become famous for, then you want to visit the Upper Canyon between June and August, between 11am and 1:30pm. The sunlight "god rays" start appearing late March and last until early Oct and are at their peak in the middle of the summer when the sun is higher in the sky. You'll see them most often during midday when the sun is directly above the canyon.
Given how quickly these optimal spots sell out (often 4 months in advance), if you still want to visit and are trying to pick between what's left of the available tour times, I found a very handy tool that will show you where the sun will be in the sky on a specific date, at a specific time. That way you can try to judge your chances of seeing sun rays based on where the sun is located over the canyon. Just scroll to the dates (below the yearly sun graph) and click the red arrow next to the date, the you can slide the sun up/down and to the right, it gives you the time for the sun's location:
The Lower Canyon does also occasionally get light beams, but it's much more rare. As such, the lower canyon doesn't have such a specific optimal time to visit.
Which Tour Should I Choose?
Most tour companies offer "sightseeing" and "photography" tours. The sightseeing tours have tiers with the more optimal time slots costing more, and then the photography tours are longer, more expensive still.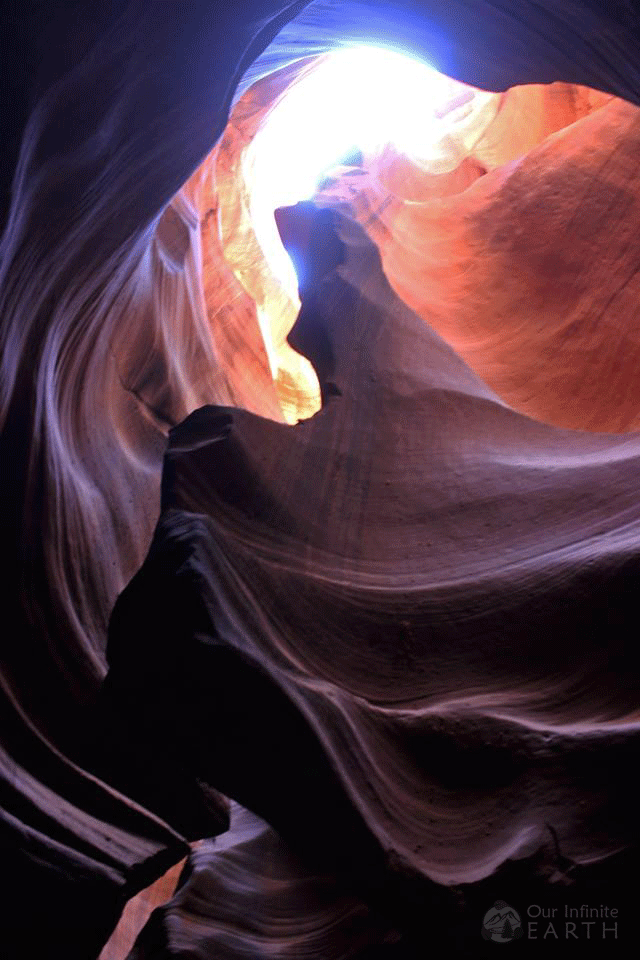 I'm not a photographer and didn't need the extra time for taking incredible photos, so I thought the increased rate for a good time slot on the sightseeing tour would still be enough to see some sun beams, which was pretty much the point. I was wrong – the photography tour isn't really about photography or people who want more time to take photos. These are the tours where you're going to see the sub beams.
Pro Tip: If you want to see sun beams, you should take the photography tour of Upper Antelope Canyon regardless of if you are a photographer or not.
These tours are all about making money, so of course the best spots are going to be reserved for whoever pays more. Not only that, but we were literally pushed out of the canyon just when the sun beams were starting to come through so that the canyon would be empty and the photography tour could get their photos without crowd of people being in the way. The difference in the tours has nothing to do with time or being a "photographer" or not – it all comes down to if you want to see sun beams or not, and if so, you have to be willing to pay for it.
If you aren't taking a photography tour, then I would recommend taking a regular sightseeing tour without the "time slot upgrade". Save you're money, they extra cost isn't worth it – you'd maybe get a peak at a sunbeam at the end of your tour and that's about it.
Camera Settings For Antelope Canyon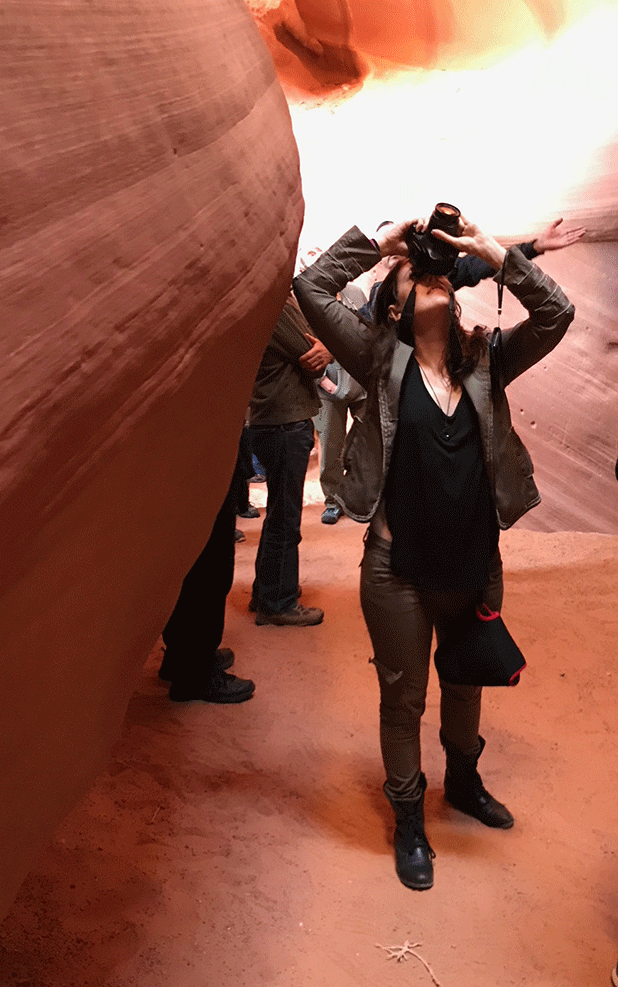 Even if you're not doing the photography tour, your guide will go over recommended settings for your phone for taking the best photos before entering the canyon.
iPhone: Set your camera to Vivid
Android: Set your white balance to "daylight-cloudy"
DSLR: Set your ISO to 200 or 400and your aperture to f/8 to start with. The canyon gets darker in some places, so you may need to adjust, but this will give you a good place to start.
Credit to Sarah, from ourinfiniteearth.com
Please contact us for removal if there is any copyright infringement.