Antelope Canyon(Upper or Lower or X) →Glan Canyon(Prime Tour)→ Horseshoe Bend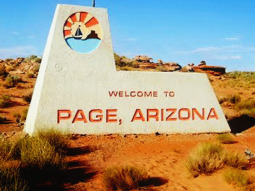 City of Page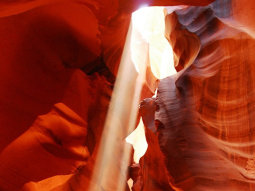 Upper Antelope Canyon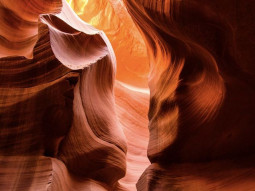 Lower Antelope Canyon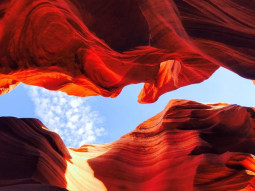 Canyon X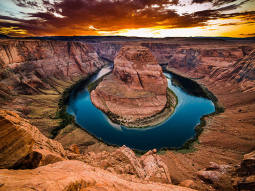 Horseshoe Bend
This tour is a free shuttle from most hotels in downtown Page. It includes a comfortable air-conditioned Van, professional Navajo guide, bottled water, and warm service, which is the most important.
First stop, Antelope Canyon
For this trip, there are three Antelope Canyons to choose from:
Upper Antelope Canyon
The Upper Antelope Canyon is called Ts bighnln, 'the place where water runs through rocks' by the Navajo People in that specific area. It is the most frequently visited by tourists because its entrance and entire length are at ground level, requiring no climbing; and because beams of direct sunlight radiating down from openings at the top of the canyon are much more common. Beams occur most often in summer, as they require the sun to be high in the sky.
Lower Antelope Canyon
The Lower Antelope Canyon, called Hazdistaz, or 'spiral rock arches' by the Navajo, is located several miles from the Upper Antelope Canyon. Prior to the installation of metal stairways, visiting the canyon required climbing pre-installed ladders in certain areas. The lower canyon is in the shape of a "V" and shallower than the Upper Antelope. Lighting is better in the early hours and late morning.
Canyon X
Antelope Canyon X is a slot canyon in Antelope Canyon that is accessible by tour. You will experience a more relaxed atmosphere and smaller groups. This tour consists of 2 slot canyons that you will visit. Our Navajo guides are knowledgeable, ready to help make your trip memorable, whether getting great photos or a great experience.
The second stop is Horseshoe Bend.
Horseshoe Bend is a superb example of an entrenched meander. Six million years ago, the region around Horseshoe Bend was much closer to sea level, and the Colorado River was a meandering river with a nearly level floodplain. Between six and five million years ago, the region began to be uplifted. This trapped the Colorado River in its bed, and the river rapidly cut downwards to produce Horseshoe Bend as we see it today.
Glen Canyon National Recreation Area (Only Prime Time Tours Visit Here)
The recreation area stretches for hundreds of miles from Lees Ferry in Arizona to the Orange Cliffs of southern Utah, encompassing scenic vistas, geologic wonders, and a vast panorama of human history.
Finally, we will drive you back to your hotel to finish this pleasant half day tour.
Bottle of water
Page hotel free shuttle